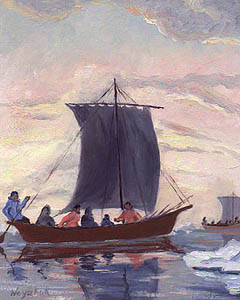 Untitled by Howard "Weyahok" Rock
© 2001 Kathleen Lopp Smith

Another Painting for the Neeluk Stories
Rock's painting of the umiaks with sails is not included in Neeluk. References to sails are found in two chapters, as indicated below.
"August" (p. 22)
Soon all who were going to Kotzebue Sound were on the beach. The grown folks were packing their luggage in umiaks, great skin boats that were deep and wide and forty feet long. Neeluk and Konok and their cousins--Wemok and his sister, Weeana, and four-year-old brother Ahlook--were all going in the same boat. The weather was clear, and the wind filled their big, square sails.
"May" (p. 78)
"Look," said Weeana, "now they are putting up the sails."
"See how fast they are sailing away!" exclaimed Neeluk.
Farther and farther the hunters sailed over the great ocean till they were but specks in the distance. Soon they could not be seen at all.